Stop the Bleed
20 April 2018
Uncontrolled bleeding is the number one cause of preventable deaths, according to the World Health Organization. No matter how rapid the arrival of professional emergency responders, bystanders will always be first on the scene. Someone who is bleeding can die in minutes while waiting for emergency services to arrive.
The White House launched the "Stop the Bleed" program in October 2015, after its development through collaborative efforts between the Department of Defense, American College of Surgeons, National Security Council, FBI and Emergency Medical Services. The Stop the Bleed Awareness campaign was initiated to help reduce the number of preventable deaths from uncontrolled bleeding by training bystanders bleeding control techniques.
The course is designed to teach citizens how to recognize types of bleeding, as well as bleeding control techniques including direct pressure, packing a wound and when and how to apply a tourniquet. Class attendees get to practice the skills they learn to empower them to know what to do and how to act in the event they encounter someone with uncontrolled bleeding.
Although this program was developed as a direct result of mass causality type events such as active shooters and bombings, its same principles can be applied to injuries someone might occur in their everyday life including motor vehicle collisions or work/home accidents.
Often people who attend a Stop the Bleed course report that they were very apprehensive about being able to handle the sight of blood or be able to help someone who is injured, but most leave the class feeling confident that they could help save a life if presented with that situation.
The Stop the Bleed program is bringing public awareness to the idea that "No one should die from uncontrolled bleeding".
Stop the Bleed classes are held monthly by Riverside Community Hospital and information can be found at www.riversidecommunityhospital.com and www.bleedingcontrol.org.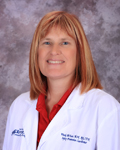 Wendy McEuen, MSN, RN, CEN, TCRN
Trauma Outreach and Injury Prevention Coordinator
Riverside Community Hospital